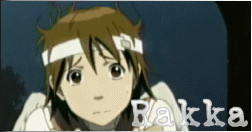 Name: Rakka (—Ž‰º)
Dream: Falling from the sky
Time being a haibane: New member
Seiyuu: Hirohashi Ryo

Rakka's the newest member of the Haibane Renmei and adjusting hasn't exactly been easy. She quickly grows her wings which was a painful event. She recieves a halo, but it fails to stick the first time. To solve this, the other girls came up with a silly contraction to keep the halo in place. Also, she just can't seem to get her hair to lay down.