free bird - The beautiful instrumental OP of Haibane Renmei.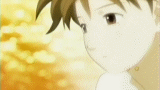 Blue Flow - The beautiful ED of Haibane Renmei.


Sekai no Hajimari - At the end of episode 5, rather than the normal ED, this narration of Sekai no Hajimari by Nemu and Rakka was used. It tells the story about how God created the earth and how the haibane came to be in exisitance.