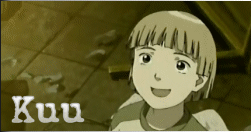 Name: Kuu (‹ó)
Dream: Floating in the sky
Time being a haibane: 2 years
Seiyuu: Yajima Akiko

Kuu is the youngest of the older haibane and she works in a cafe. She's always genki and full of energy. She's an animal lover and also seems fond of weird hats. Even though she's only been a haibane for 2 years, she already knows the ropes of things.