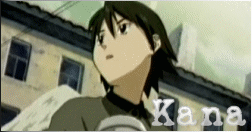 Name: Kana (‰Í‹›)
Dream: Swimming with fish
Time being a haibane: 3 years
Seiyuu: Miyajima Eri

Kana is the tomboy out of the haibane. She's loud and boisterous, often uncooperative although she has a good heart. She works in a clock shop. In her dream, she was swimming with fish so her name came to be Kana. She has a strong dislike for crows, but it's mainly rooted in how she doesn't want them to become lazy and not be able to live for themselves.